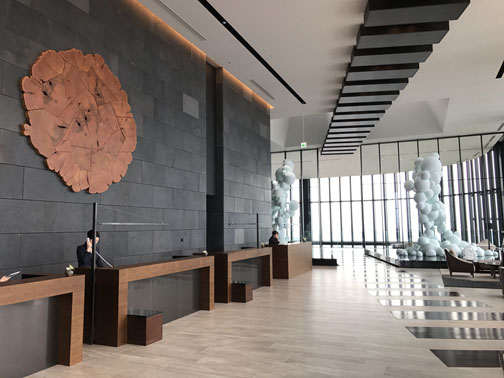 With the number of inbound travelers to Japan growing by leaps and bounds, there is a great need for both new hotel construction and renovations. This tremendous growth story has attracted the attention of Western hotel chains with many of the big international players scrambling to build and buy properties across Japan. The Hilton Group just opened a new hotel in Osaka on June 9th under its high-end Conrad brand.
BC Wood has been working with Japanese design firms to spec in Canadian wood products into hospitality projects and we have become active members of the Japan Commercial Design Association. One of the top firms in this group is the Yukio Hashimoto Design Office. Hashimoto-san started his career with the world renown firm Super Potato, but since going out on his own he has himself become one of Japan's most famous designers. As a result, his firm was hired by the Hilton Group to handle the interior design of the entire Osaka Conrad Hotel.
Many years ago, Hashimoto-san took a personal interest in Brent Comber's work and even bought an Alder Bench for his own office. Brent and Yukio met whenever Brent visited Japan and discussed opportunities for working together. Hashimoto-san loves to blend sleek, modern designs with the natural warmth of wood, so he asked Brent to make the central art piece for the Osaka Conrad's lobby. The Conrad project was of course very important to Hashimoto-san so he decided to take his entire design team to Vancouver last fall to visit Brent's studio and see this work of art in progress. During that trip, Brent and BC Wood also arranged for Hashimoto-san to speak at IDS Vancouver so that the wider industry could learn about some of the great things happening with commercial design in Japan.
Siigaay, which means ocean in the Haida language, was assembled from pieces of ancient Western Red Cedar. Some of these pieces are 800-1000 years old. Brent said that he was "pleased to present this ancient material in a modern context within the beautifully designed lobby of the Conrad Hotel, Osaka Japan. The paradox of ancient material and modern lifestyle still plays a central role in my art as does Japanese and Haida culture."
As the Conrad is now the top luxury hotel in Osaka, Brent's art and Hashimoto-san's designs will be enjoyed and appreciated by well-heeled travelers from around world. BC Wood will keep working with Japanese designers so more of our members' products will find their way into the growing number of hospitality related projects in Japan.