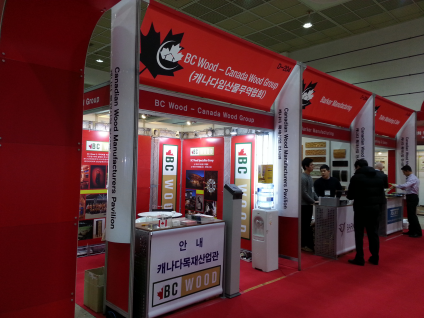 On behalf of its' members, BC Wood organizes one major construction show each year in the Korean market. We once again chose the Housing Brand Fair in January at Seoul's centrally located COEX trade and convention centre. The COEX Centre underwent extensive renovations last year, but it recently reopened and is once again drawing in large crowds.Over 260 companies participated with 1,000 booths this year. During the four days of the show, over 40,000 people came to see the Housing Brand Fair.
The Housing Brand Fair attracts a large cross-section of the construction industry including companies involved in new wood framed construction, condominium developments, as well as renovations. Therefore, the show is a great venue for a wide range of BC Wood members, from lumber to house packages to finishing materials. Being held in Seoul's main business district also ensures that key decision makers from these companies can easily visit. Our in-market representative, JC Lee, makes the most of this convenient location by setting up extensive meetings for participating members. This type of pre-show assistance is key to having a successful show as it ensures that members know that they will be able to meet the key targets for their products.
JC also organized visits to customers' offices and their building sites after the show. Through these visits, the members were introduced to projects for 2×6 wood frame homes, heavy timber frame homes, cedar homes, a golf course development with 300 wood frame homes, resort homes, rental homes at resorts as well as Korean traditional wood frame homes. Also, concrete construction job sites were visited for kitchen cabinets, windows, doors, as well as wooden interior and exterior finishing materials.