Roy Manion |  rmanion@bcwood.com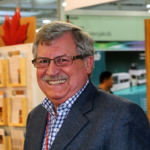 Well, this is it! This is my last "Wood Connections" article. Actually, my last of most things work related.
After 53 years in the building materials industry, promoting and selling products throughout all of North America and much of the world, I have made the decision to call it a day and am retiring. My retirement officially begins at the end of March. I say "officially" as I will be back for a few day in April to tie up some loose ends (year-end reports and the like). I will also stay around for a few days to assist in the transition of my replacement, Ken Hori. Ken is a great guy and has been working with BC Wood for several years so I expect the transition to be a seamless one. There will be more on Ken in another article in this edition.
Regarding my working journey, although there have been some valleys, just like there are in life, for the vast majority of time I have thoroughly enjoyed myself, especially many of the people I have worked with – on both sides of the desk – some of whom over the years have become dear friends.
In the last 11 years, I have particularly enjoyed working here at BC Wood, again, especially the people with whom I have worked with. I will definitely miss each and every one of them as they have been as fine a group with whom I have ever had the pleasure of working. I still very much enjoy working with them and what we as a group have accomplished over the years. However, I was told many years ago that you should leave a party while you are still having fun and that is what I will be doing here.
After 53 years I know it will be very strange to suddenly not get up and head off to work. However, my wife promises me that I won't be bored. This summer we will be spending 5 weeks in her home country of Croatia. A couple of weeks after we get back, we are off to Leavenworth, WA for a week, and she is already planning a trip to Palm Springs next fall. In amongst all that, there are several things that need doing around the house. So the first year, at least, looks to be a busy one so I guess it is best I get started!
To all those who I have work with over the years here at BC Wood and at Masonite and Canfor, thank you very much for making this a great journey.