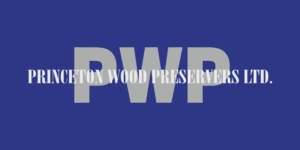 Founded in 1973, Princeton Wood Preservers, located in Princeton BC, is a family owned and operated company, with Elizabeth Marion as the President, and her son, Bill Everitt, as the general manager.
With 37 enthusiastic employees, the company produces a range of CCA Pressure Treated and untreated Round-Wood Post and Rail products, which are used for agriculture and wildlife exclusion. Their quality assurance is rooted in their strict adherence to pressure treating standards established by the American Wood Preservers Association (AWPA), the Canadian Standards Association (CSA) and the Canadian Wood Preservation Certificate Authority (CWPCA) for Environmental Plant Certification. If you're not familiar with the company, chances are you have unknowingly seen their products in a variety of places. Notably, their poles line the side of the Coquihalla, and they have other Round Wood Products which can be spotted in movies such as Hot Tub Time Machine and Gunless.
Princeton Wood Preservers are the only CCA round wood product producer in BC with complete control of production from raw wood to finished product, all of which are CCA pressure treated and meet CSA standards for wood to ground contact, for which they no longer require 3rd party inspection. They are the premier supplier for the BC government, the BC Cattlemen's Association, and a variety of agriculture producers, such as growers of blueberries, hops, and vineyards throughout the province, Eastern Canada, and the United States.
For more details on the company, see their website at www.pwppost.com and give them a Like on Facebook here.