Roy Manion |  rmanion@bcwood.com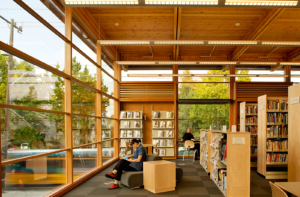 Activity continues to be brisk for the Specifiers Program as we enter the halfway mark of the first quarter of 2018.
While the majority of our activities are lunch & learn sessions, we also were involved in Buildex where BC Wood, joined by several companies from industry, exhibited. Aside from the trade show floor, Buildex also hosts many seminars. This year, for the first time, Buildex sponsored a PechaKucha seminar format where presenters had 20 slides with 20 seconds per slide to speak to each slide. Yours truly moderated the program. Presenters were from Diamond Schmidt Architects, Michael Green Architecture, and Fast and Epp Engineers. This was a challenging format as none of the speakers, nor the moderator, ever participated in this format before. Having said that, the event went extremely well and was a lot of fun.
On February 26, BC Wood will be attending Wood Works Wood Design Awards dinner where we will host a number of prominent architects and industry at our table. We will also be presenting the BC Wood sponsored award for Interior Design.
On March 1st, a key event, and one of our largest of the entire year, will be held at UBC and is titled "TIMBER, GLASS AND NAFS: ARCHITECTS GUIDE TO NAFS & CURTAIN WALL WINDOWS ON TIMBER FRAME BUILDINGS". BC Wood is collaborating with CAWP on this event and it will be held in the CAWP facilities. The event features local experts who will explain and demonstrate creative solutions for integrating glass and timber into structures and provide insights into the regulations governing this work (NAFS). The program will then move to the lab floor for an interactive demonstration of heavy timber and curtain wall assembly including a live demonstration of an air and water test on an assembled unit to determine the Performance Grade measure. The response has been very strong as we received well over 60 responses in the first 24 hours so we are expecting a full house.